Something about the snow melting, temperatures rising, and flowers blooming, puts us in the mood to clean. After all, the term "spring cleaning" is a pretty common one! I don't know if it's everything coming alive again that makes us want to freshen our living spaces up, or simply a matter of annual habit, but I am certainly in the mood to get to work on my humble abode. In fact, this weekend I have some serious closet cleaning planned while my kiddos are at a sleep over!
Two weeks ago I posted a handy spring cleaning checklist. But since everyone spring cleans a little differently, and has their own handy tips and tricks, I thought I would ask my blogging friends for some spring cleaning tips to help you all out! I've collected a "dirty dozen" tips for spring cleaning from my friends across the interwebs! Below you can find tips for decluttering, making your cleaners, tackling different areas of your home, and even tips for organizing your photos (because spring cleaning isn't always just about windows and floors and junk!).
General Cleaning Tips
Think of spring cleaning as a marathon, not a sprint. Don't try to accomplish sprucing up your home in one weekend. Allow yourself time to go through one or two rooms a day, that way you can feel like you accomplished something, rather than feeling overwhelmed by the enormity of your home. And be sure to include the entire family! Even the little ones can help rearrange toys and arts and craft room supplies, and your spouse can assist in the purging decision making.
Yours truly at Structure in an Unstructured Life
Create a list to work from. (How many of you knew I would suggest making a list, huh?) I like to organize mine by room, and then I usually try to work from top to bottom and front to back. So I start with our upstairs in the front room, then work to the bathroom at the back of our top floor. Then I cover the downstairs, working from the front of the house to the back. I always think the great thing about having a list is you can cross off tasks as you go, and can visually see your progress. Seeing how much I have gotten done and how little I have left keeps me going! (You can find my spring cleaning checklist here, and print your own copy, too!)
Photo Organizing
Michelle at A Dish of Daily Life
Overwhelmed by digital photos?
In the days of film, you might have taken a roll of 24 at our child's birthday party. Now with digital, you might take hundreds of pictures of that same event! Add in sports, family events, vacations, and you could find yourself with thousands (and even tens of thousands) of pictures on your computer.
The wonderful thing about digital is that you can delete all those extra photos. In theory, our photos should be more organized than ever before. But the reality is, we don't delete. Digital photos that we don't need are clutter…perhaps not in the traditional sense of the word, but they do take up room on our hard drives, and they slow us down too. The more photos we have on our computers, the harder it is to find the one we're looking for.
One of the most important things you can do to keep your digital photos organized is to DELETE!
Delete the photos you don't need right away. If you took 25 pictures of the kids playing in the pool, save the best three or four. You don't need all of them. The memory can be preserved just as easily with a few pictures as it can with twenty five.
Don't store photos you don't need. Many of us take pictures of school events, sports, dance, etc. Once you've shared those pictures, unless you are doing a project with them, go ahead and delete them. You don't need to store pictures of your kids' classmates or teammates indefinitely. If you've shared them, then the other parents have access to them already. There's no need for you to keep them.
Tackling the Clutter
My favorite part of spring cleaning is to let go of winter clutter. It feels SO great just to do the simple act of boxing snow pants, coats, boots, hats and mittens and putting them into the basement!
My next favorite spring cleaning task is to go through my kids' clothes and take out heavy winter stuff, as well as outgrown clothes and put it into piles to save, donate or give to friends/family. I also use this thinking with the kids' toys. If they're broken, they are thrown away. If they are not played with, they are donated or saved to pass along to younger kids. If they are still current and in good condition, I spend WAY too much time putting things together. I seriously hope I never see another toy that contains 20 small parts!
Anyway, I'm no expert with cleaning, but getting rid of winter baggage is good for the house and the soul!
My spring cleaning tip: Organize your closets first. Organizing closets will set the mood to clean the rest of your home. Use three piles when organizing any space. Empty everything out of the closet and put it in either 1. Keep 2. Donate 3. Trash. *Notice there is no 'maybe' pile.
Jen at Drinking the Whole Bottle
Spring Cleaning Tip: 4 Suitcases and a SWAP
The most essential thing I have learned moving abroad is that I don't need more than half of the stuff that I think I need. When we were sorting through our things to move to Dominican republic I had to be really choosy about the things we were bringing with us. And nothing helps you downsize like only having 4 suitcases to pack your life up in. It was hard… then. But now, it's gotten easier. Now when I find myself in the mood to "spring clean" I think back to what I would put in those suitcases and play the "What's Important Enough to Pack in One Suitcase Game." I start with my closet, which tends to be the biggest offender, and I sort out:
- the clothes that definitely stay,
- the clothes that definitely go,
- and the clothes that might remain (this is an important category)
The clothes that GO get put in a bag and instantly brought to the car, lest I change my mind and want to keep something again. Then I start on my "might" pile that is always larger than it needs to be. Here I get serious and think back to my suitcases. Would this 4th pair of skinny jeans make it into one of my important suitcases over something really important? If my first response is probably not or maybe or umm… but not a Yes, definitely then it's got to go.
Here's the fun part that might make tossing it easier… invite your friends to do the same and then have a SWAP Party. Everyone should be told to bring a snack and a bottle of wine (cause who doesn't want to shop with wine) and that all items should be in good condition. Everyone packs up the jeans, purses, shoes, headbands, jewelry, children's clothes, picture frames, husbands' ugly ties or whatever they no longer want and bring it to the SWAP. In this way, not only do your old treasures breathe new life through another owner but you don't have to feel bad about letting something go. Everything that doesn't get taken from the SWAP is then donated.
Don't ask me why, but I usually end up giving more things to a SWAP then I would normally when I'm just "getting rid of stuff" and I always come home with new things that I actually wear and use.
For me, spring cleaning is all about just that … cleaning. I love to have a clean house and a clean closet. My spring cleaning tip is to go through your closet and purge! That old dress that you know you'll never put on again – get rid of it! Tops all the same color but you only wear one or two – get rid of the excess! You will love having an organized closet. And for those of you that don't like to see all those clothes go bye bye without replacements, head to your favorite shopping place and score some new Spring colors!
This year, a friend and I decided that we weren't going to show any mercy on the clutter in our house. We resolved to ditch everything that wasn't used, beautiful, or had a specific purpose. No more keeping things "just in case we might need it". Between the two of us, we off loaded 60 trash bags of things and I made close to $500.00 at a children's consignment sale.
Natural Cleaning
Recently I have tried to reduce the amount of chemicals in my home and around my children! It is also proving to be very cost effective! It is amazing the number of household cleaners that can be made using a few ingredients! Dishwasher detergent, rinse aid, shower cleaner, drain cleaner, glass cleaner, laundry soap and softener and more!
These are the items I recommend to get you started!
1. Borax
2. washing soda
3. Fels Naptha soap
4. castile soap
5. baking soda
6. rubbing alcohol
7. cornstarch
8. a few lemons or oranges
9. vinegar
10. essential oil of your choice (I started out with lemon and lavender oils)
TIP: Save any glass containers you come across for storage of your new household products! For full recipes, there is no better place than Pinterest! With just 10 products found in your local grocer and Pinterest- you can spring clean your entire house!
Anneliese at Superfresh Babypants
Mix together in a spray bottle: 1 Tbsp Borax, 1 Tbsp Dr. Bronner's lavender soap, 3 Tbsp vinegar and 2 C. H2O. Spray a paper towel or reusable cleaning cloth with your new all purpose cleaner. Wipe down all of your doorknobs, drawer pulls, cabinet knobs, toilet handles, railings, washer/dryer/dishwasher panels, light switches and any other highly used yet sorely neglected household item you can think of! Enjoy a lifetime of germ free living and good health.
Kitchen Pantry
My Spring Cleaning Tip:
My in-laws recently visited, which gave me the push I needed to get my Spring Cleaning started. I started my Spring Cleaning in the kitchen. My pantry was bothering me; I knew there were stale snacks, almost emptied boxes, and snacks nobody in the house liked still in the pantry. I went to work editing our pantry. My pantry is still a work in progress, but I thought I'd still share my tip for sprucing up your pantry this spring.
You know the old adage "out of sight, out of mind," well that totally goes for your pantry, too. I don't like to waste food. I try to put things in clear containers, glass jars and even baskets work well too. When you see what you have, you use what you have. I group similar items in $0.97 clear bins I found at Target, and this helps with the pantry clutter. (I also use them in my fridge.) Could you imagine how many tea boxes would clutter up my pantry if I didn't use a jar!?!
In the event you were wondering about the 3 drawer storage cart, that was supposed to go under my kitchen sink, but it was too big. In the 3 drawer storage cart you'll find my make-ahead freezer tools, the kiddos' reusable snack baggies, and their lunch boxes. Happy Cleaning!
Play Room
Tiffany at Mrs. Tee Love Life Laughter
I was so flattered when Beth asked me to help contribute to her Spring Cleaning Series, but then I was met with a bit of an issue. I clean like everyday so having a true Spring Cleaning doesn't happen very often. I know, I know but blame it on my OCD and my need to eliminate every mess the instant I see it or sense it, as my Hubby says
Still, I did tackle a bit of a project this past week in my Kiddies playroom. They have an area designated for their toys but this one area is split between 3 Kiddies. So it gets cluttered and overwhelmingly messy rather often. My first solution was to purchase those large tote bins and separate each Kiddies toys by colored totes. This worked for all of 3 months because they saw the totes as a type of challenge and began using them as a stage, steps, lounge areas…basically everything they weren't meant to be!
This is when I decided to take a trip to my trusty and always reliable local Wal*Mart. I went straight to the organization and storage area, but this time instead of hard plastic totes I was looking for something that was affordable, deep and still appealing to my eye. Even though I want neat I wanted it to look nice too.
When I came across these pop-up laundry totes I thought "Hmmm…just because it says laundry doesn't mean only laundry"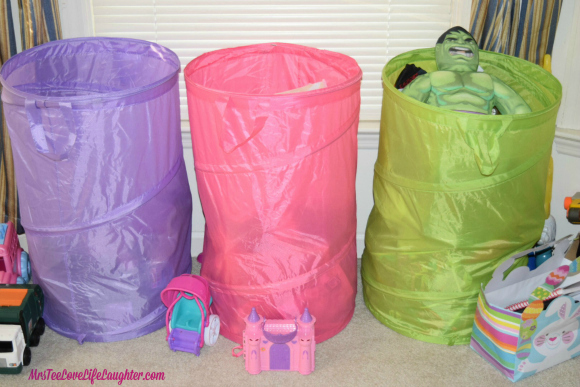 This is where my repurposing skills began to come in. I went home and started to separate, sort and organize all 3 Kiddies toys into piles. Then I put them in the laundry totes according to their favorite colors. I was surprised that not only did all the small toys fit, but the totes were reinforced with wire and made of a pretty durable nylon material so I can lift them and walk around the room collecting toys and not worry about them collapsing or giving way.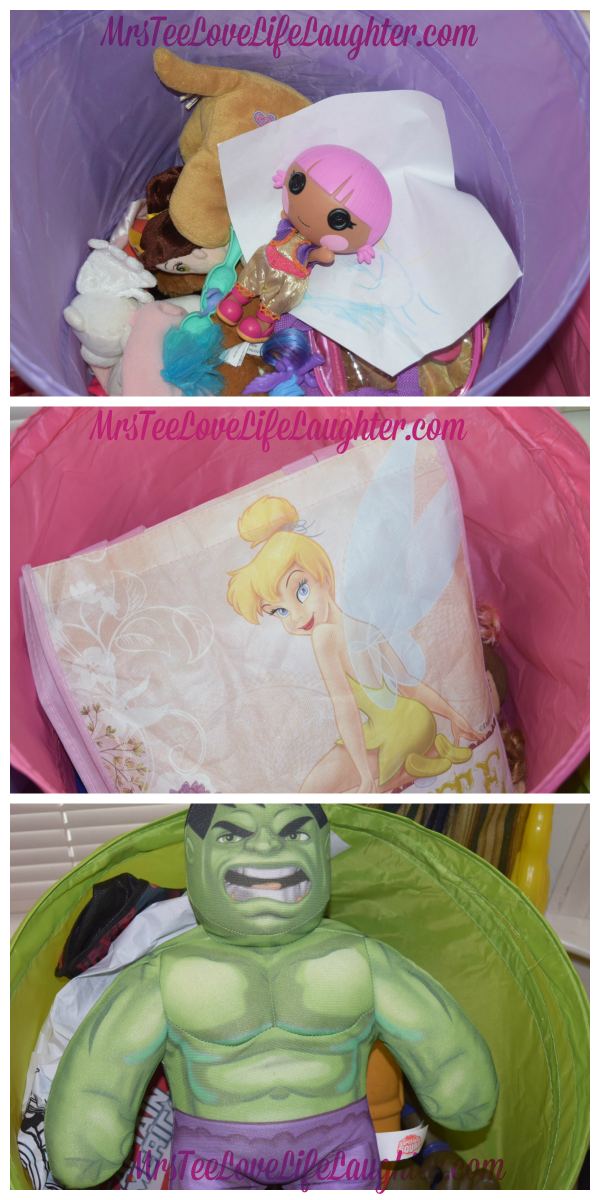 Of course I couldn't fit every toy but I really only set out to get the smaller toys in one place instead of simply spread out all over my floor. We all know there is no pain like the pain of a tiny toy underfoot in the middle of the night.
Oh, did I forget to tell you??? My repurposed laundry totes only cost me $5.95 each! So in total I was able to separate, sort and organize my 3 Kiddies Playroom for less than $20 including tax! Now that's what I call a Spring Cleaning Success!
**Disclosure of Material Connection: I have not received any compensation for writing this post. I have no material connection to the brands, products, or services that I have mentioned. I am disclosing this in accordance with the Federal Trade Commission's 16 CFR, Part 255: "Guides Concerning the Use of Endorsements and Testimonials in Advertising."